32 Metcalfe Street West | Strathroy, Ontario N7G 1M6 | Phone: (519) 245-1023 | Email: office@dennings.ca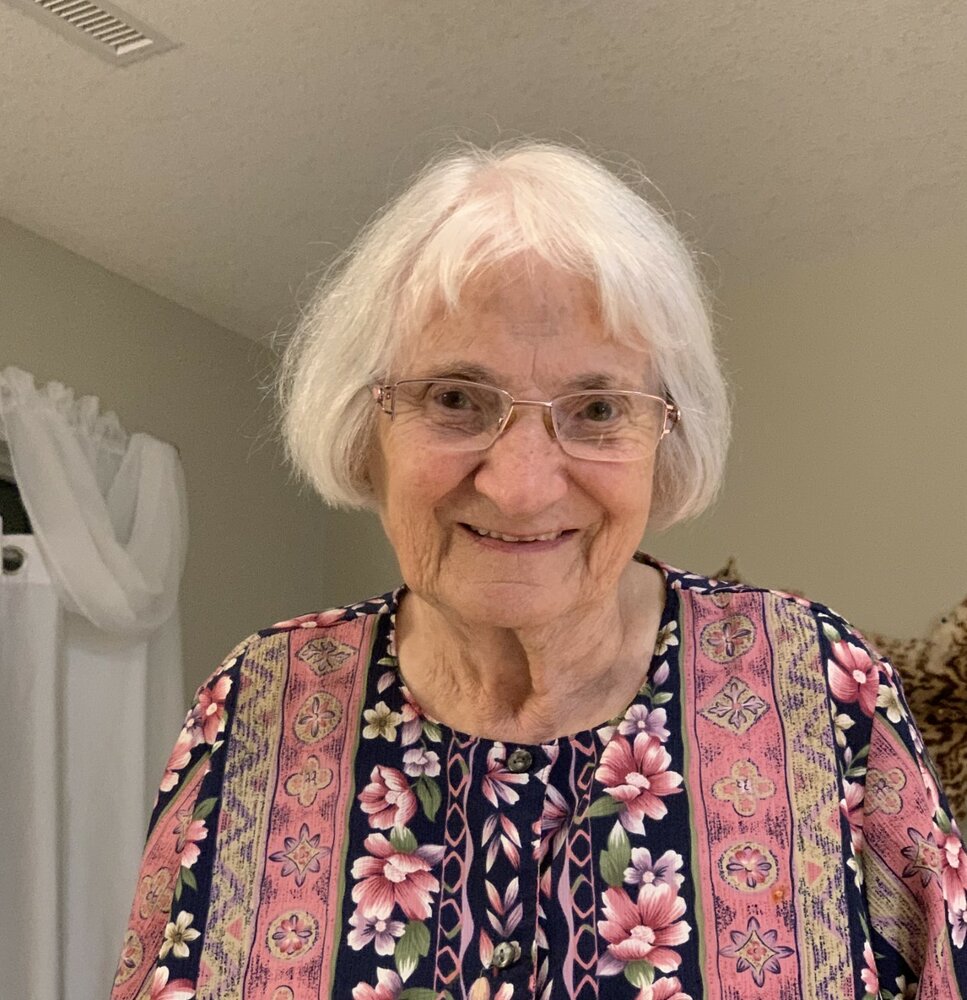 Obituary of Jean Elizabeth Hiscox
In the morning hours of Nov 21st, with her loving husband of 62 years by her side, Jean was ushered into the presence of her Lord and Saviour. With 91 years behind her she had long looked forward to being in the presence of the One who gave His life for her. She is now there and as the Scripture says, to be absent from the body is to be present with the Lord (II Corinthians 5:8).
Jean was a loving wife to Derrick Hiscox.
She was a cherished mother to Douglas (Nancy) Hiscox, Jenine (Bernie) Johnson and Donald (Ester) Hiscox.
Proud grandmother to Amy (Adam), Jamie (Alysha), Benjamin (Kristyn), Bryn, Christiaan (Trevor), Steffanie (Hayden) and Luke (Jenna).
Great Grandmother to Charli, Greyson, Hailey, Levi, Jessa, Naomi, Adah and Hazel.
She will be missed by her sister, Marion Lynds of Nova Scotia.
Predeceased by parents Albert and Flora Baldwin; in-laws William and Myra Probert and grandson Justin Hiscox.
Jean experienced a joyful, fulfilled and blessed 91 years as she travelled through this life. She graduated in Missions studies from London Bible Institute, Wycliffe's Bible Summer Linguistic Institute & New Tribes Mission Training Institute. Jean married Derrick, a fellow student from Wales, UK and they completed Language & Cultural studies in the U.S. In 1963 God called the family to assist in a mission to a remote Amazonian tribe. Jean adopted the Marubo hunting & gathering lifestyle, while learning the then unwritten language of the people. She gave them an orthography. She and Derrick were privileged to teach several tribal men to read and write for the first time in their history! Upon their return to Canada Derrick and Jean, along with others, began producing a Portuguese telecast: 'A Biblia Fala' which aired in Southern Ontario. Jean also had joy seeing God establish a Portuguese church in London.
Jean and Derrick were blessed and privileged to embrace the challenge of serving with Northern Canada Evangelical Mission (NCEM) in Prince Albert, Saskatchewan. Together they travelled Canada coast to coast and into the northern villages inviting First Nations brothers and sisters to share their Christian faith via television. Now, 40 years later Tribal Trails continues to air daily country wide. She felt honoured to be involved and gave all the glory to God!
Jean asked us to share the lyrics from the song 'From Heaven's Point of View' with the hope it would be as much of a blessing to you as it was to her.
"Soon I'll soar like an eagle high on wings of grace
Far into the heavens where I'll see Him face to face
Rising in His splendor to heights I never knew
What once looked like a mountain is just a hill from heaven's point of view"
A memorial service will be held Friday, December 2, 2022, 1 p.m. at Elim Bible Chapel (8457 Townsend Line, Arkona, Ontario). In lieu of flowers, please consider a donation to Tribal Trails (tribaltrails.org) or Effect Hope (effecthope.org) or Veterans Community Outreach Ontario (Canada) (vcoontario@outlook.com) Online condolences and memories may be shared at www.strathroyfuneralhome.com. Arrangement entrusted to DENNING'S OF STRATHROY.
Share Your Memory of
Jean