32 Metcalfe Street West | Strathroy, Ontario N7G 1M6 | Phone: (519) 245-1023 | Email: office@denning.ca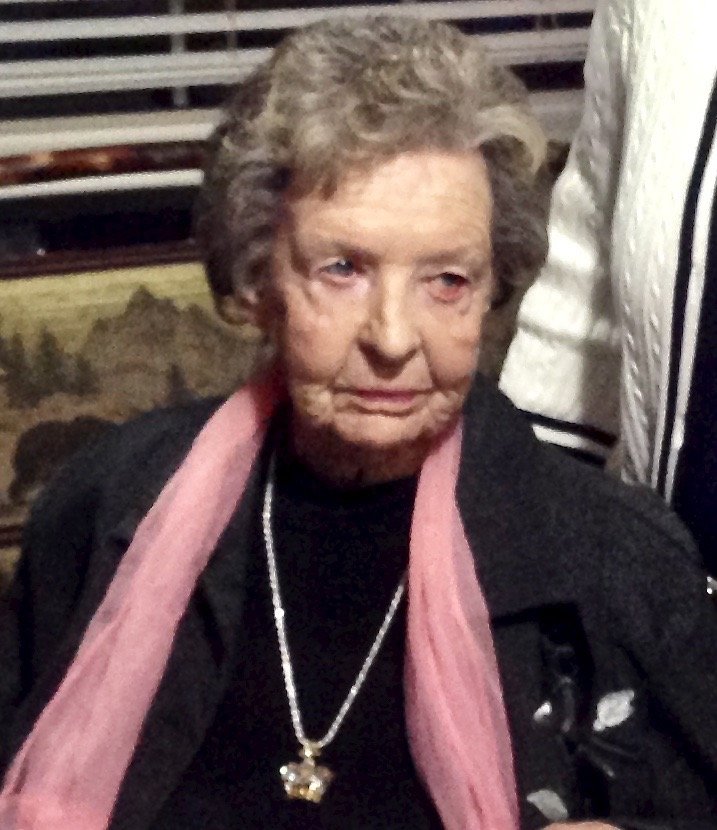 Obituary of Helen Irene Patterson
Patterson, Helen
With sorrow we announce the passing of Helen Irene Patterson (nee Campbell) on Sunday, January 27th 2019 in her 90th year. Predeceased by her husband Duff Patterson in 2002, and her sons Alan (1990), Rob (2005) (Sue - 2003) and Joe (2008). Helen leaves behind her daughters Beth Bennett (the late Bill - 2010) and Sandy Ruddy (the late John - 2003 and Mike) and her daughters-in-law Margaret and Valerie.
Helen was born to Alexander "Murray" Campbell (1961) and Olive "Marie" (nee Reinhardt) (2003) on March 7, 1929 and was the oldest of eleven children. She is survived by her brother Les (Brenda) of Windsor, and sisters Sharon Kennedy (Don) of Byron, Donna Goodall (Don Steeper) of Nairn and June Whittard (Richard) of Fonthill and brother Ronnie (late Terry) of London. Sadly predeceased by sisters Betty MacGregor (late Gerry) in 2002, Shirley Harris (late Jack) in 2013, Phyllis Smith (late Bill) in 1991 and her brothers Jack (late Marie) in 2013 and Keith in 1984. Helen was also predeceased by her sister-in-law Ruth Giffen (Melville) in 1999 and brother-in-law Bruce Patterson (Lillian) in 2003.
She was a fiercely proud and devoted Grandmother and will always be lovingly remembered by her grandchildren John Patterson & Paula Shephard (Mark), Jeffery (Jackie) & Joshua Bennett, Amanda (Ha) & Adam Ruddy, and Donovan & Dustin Weekes. Helen is also survived by 7 great-grandchildren and many nieces and nephews.
Helen had not enjoyed good health in recent years due to advancing old age, but died peacefully and with her family in her own home and on her own terms, as she wanted. She was an extraordinary lady and will be sorely missed by all who knew and loved her. We thank the dedicated caregivers of VON and ParaMed who made it possible for Helen to remain at home.
Friends will be received on January 31, 2019 from 4 – 6 PM and 7 – 9 PM at DENNING'S OF STRATHROY, 32 Metcalfe St. W. Strathroy. Funeral service will be held at the funeral home on February 1st, 2019 at 1:30 PM. Interment will take place at Strathroy Cemetery In lieu of flowers, donations may be made to charity of one's choice. Online condolences and donations may be left at www.strathroyfuneralhome.com
"Grief is the price we pay for Love"