32 Metcalfe Street West | Strathroy, Ontario N7G 1M6 | Phone: (519) 245-1023 | Email: office@dennings.ca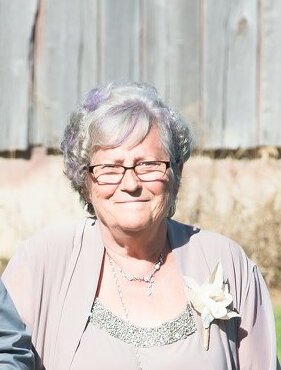 Obituary of Jeannine Elizabeth Depont
On August 7th, 2023

In the presence of her granddaughter, grandson-in-law, great-grandson, oldest daughter and 2 close friends, at her granddaughter and grandson-in-laws home in Parkhill, Jeannine Depont (nee Windis) of Strathroy, 13 days short of her 80th birthday, peacefully, with dignity, and ever so swiftly, moved on to be reunited with the love of her life in the heavens above.

Jeannine moved from Denderhoutem, Belgium, to Canada when she was 12 years old with her mother, father and 2 siblings. While growing up Jeannine worked on various farms, with tobacco being the primary job. Jeannine could be referred to as a "jack of all trades".
She could do all the dirty work that needed to be done working in cement, but she also worked in restaurants, and even factory work.

Jeannine married the love of her life, Marcel, in 1961 at the tender age of 18. Together they truly made the love story of a life time. They were inseparable. They worked, danced, played cards, bowled, played darts, fished, camped, traveled, and loved like no other.
Jeannine raised 2 children, Maureen and Claudette. Jeannine also helped raised 6 grandchildren Tanya Bax (Kevin), Derek Freer (Mariena), Brendan Depont (Brandee), Paul, John and Crystal Mortier.
Jeannine also had so much joy in helping raise her great grandson Ian Depont. She also had 2 more great grandchildren to bring so much more love to her life, Vayda Bax and Elizabeth Freer.

Jeannine was so well known for being such a kind, giving, loving, humorous and generous soul. She was also known for her famous cooking and baking. No one could resist her Belgian cooking. Especially her waffles, pancakes, smoutebollen and lukken.

The family extends their greatest thanks to Dr. Perkin for caring for Jeannine for more then 40 years. A loving thank you to Wendy Windis for always going above and beyond for Jeannine and for all the support she gave the family. A special thank you to Bridgette from St. Elizabeth, Joyce Arrand and Vicki Reeves for their personal care and compassion towards Jeannine and her granddaughter. Visitation will be held at DENNING'S OF STRATHROY, on Thursday August 10th, 2023 from 4:00p.m. until 7:00p.m. A Mass of Christian Burial will be held on Friday, August 11th, 2023 at 11:00a.m., with visitation one hour prior, at All Saints Catholic Church. Interment to follow at All Saints Cemetery, Strathroy. As expressions of sympathy, Donations in memory of Jeannine can be made to the CWL at All Saints Parish. Online condolences and donations may be left at www.strathroyfuneralhome.com.
Share Your Memory of
Jeannine