32 Metcalfe Street West | Strathroy, Ontario N7G 1M6 | Phone: (519) 245-1023 | Email: office@dennings.ca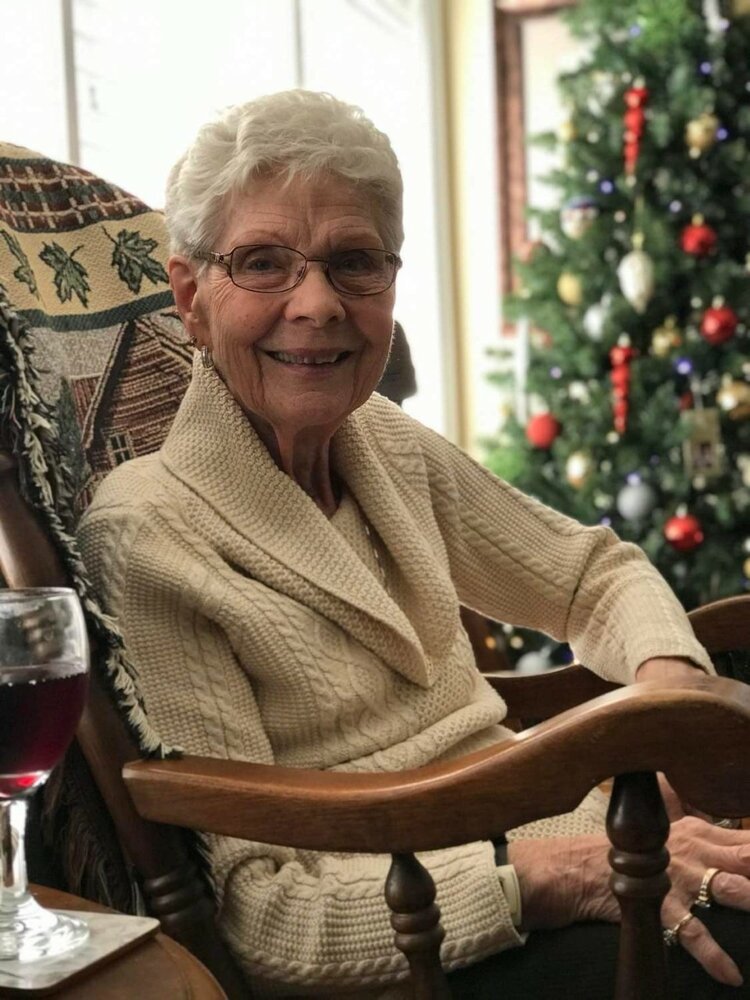 Obituary of Ethel Mae Noyes
Ethel Mae Noyes of Strathroy Ontario peacefully passed away May 7, 2023. She had proudly celebrated her 90th birthday twelve days earlier. A true sign of her determination to reach goals.
Ethel was born on April 26, 1933, eldest daughter of Carl and Evelyn Paulson. She grew up hunting gophers and rattlesnakes, along with skiing and skating in the rolling hills of Utica Minnesota. After high school Ethel moved to Rochester Minn. to work at the Mayo Clinic. Here she met the love of her life, Maurice Noyes.
These two adventurous Minnesotans married and immigrated to Canada, settling and raising their family outside of Strathroy. Ethel's house often smelled of the fresh bread and buns she baked, the fruit and tomatoes she canned and the hot charcoal briquets from the BBQ all summer long. She and Maurice loved hosting Pig Roast Parties for family and friends. She tried her hand at dandelion wine making. It bubbled and brewed downstairs in the dark and when bottled it would pop corks if you put it in the car trunk to be taken and shared with friends.
As the girls grew up and Maurice lost his eyesight, Ethel's strength, devotion and love charged forward. They were the best partners travelling all over North America many times, stopping frequently to try their luck in Casinos along the way. They enjoyed winters in their Florida home, summers in their country home and annual trips back to Minnesota to see family.
She is preceded in death by Maurice (2010). Ethel is survived by her loving daughters Joyce Dinsmore, Janice (Dave) Matthys Taylor, Joanne (Jim) Stephenson. Filled with great memories are her grandchildren Jack (Shandra) Dinsmore, Jenn Dinsmore, Mike (Rebecca) Matthys, Michelle Matthys, Dave (Chelsea) Matthys, Lee (Jess) Stephenson, Ryan (Ashley) Stephenson. Beloved GG to Owen, Marshal, Finley, Alexis, Kaitlyn, Hunter, James, Julian, Lily, Eva, Ripley and Jorja Joy. Ethel is preceded in death by her brothers Orville (Bev) Paulson, Harold (Ruth) Paulson, Art Brown. She is survived by sisters Jeanette Brown, LaVonne (Jim) Mindrum and brother LaVerne (Denise) Paulson.
Thank you, Roger and Linda Lapointe, for a lifetime of friendship and your weekly visits that mom enjoyed so much. We would like to thank Dr. Gary Perkin for the many years of care and kindness. We also thank everyone at Seasons Retirement Strathroy.
At Ethel's request, the family will gather for a celebration of life this summer. As expressions of sympathy, donations can be made to Strathroy Middlesex General Hospital Foundation. Online condolences and donations may be made at www.strathroyfuneralhome.com.
Share Your Memory of
Ethel