32 Metcalfe Street West | Strathroy, Ontario N7G 1M6 | Phone: (519) 245-1023 | Email: office@dennings.ca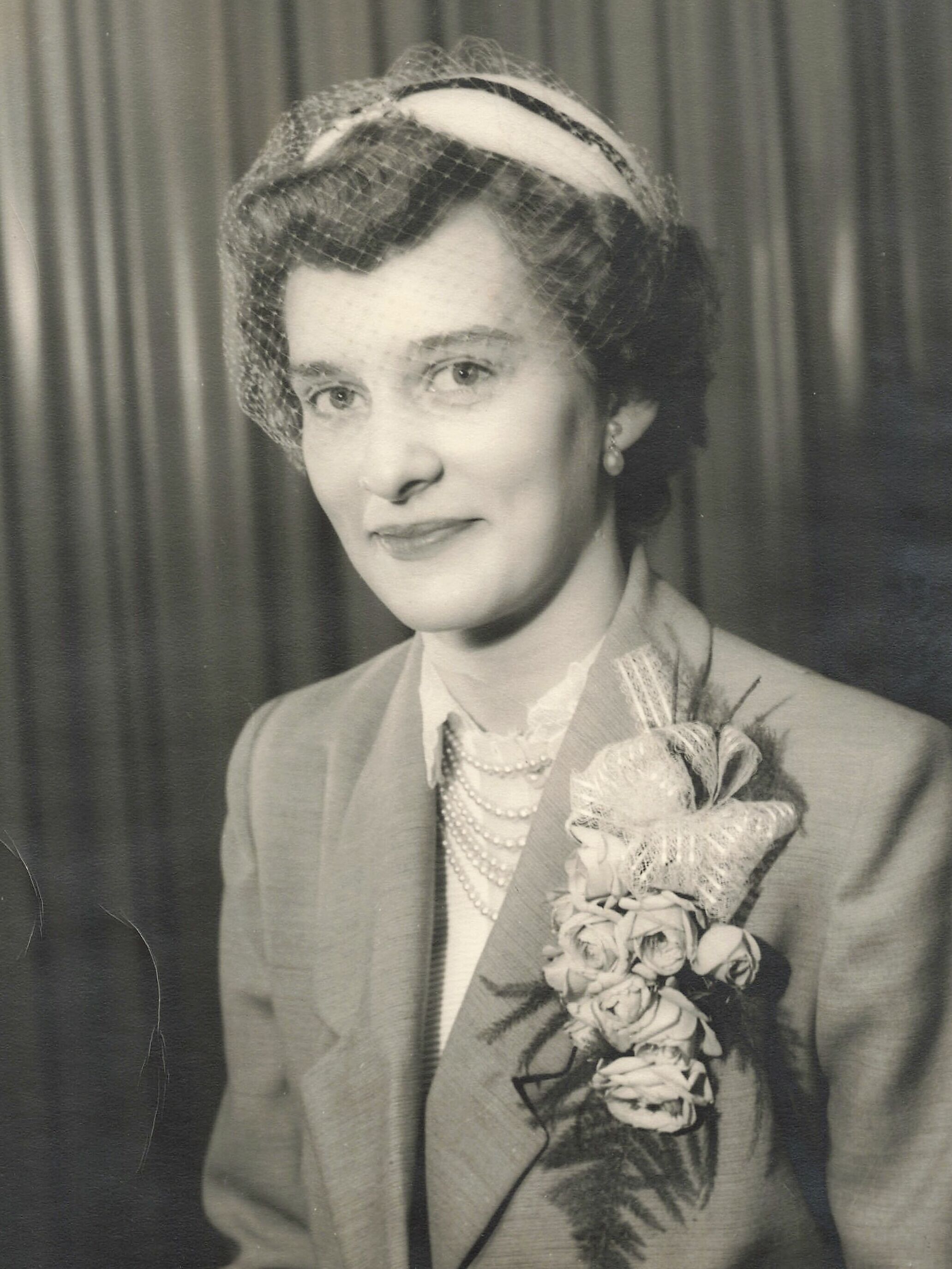 Obituary of Carolyn Ann Wood
WOOD, Carolyn Ann
Carolyn Ann Wood passed away at Strathroy Hospital (Strathroy, Ontario), on March 16th, 2022 in her 89th year. She will always be remembered for her courage, humility, gratitude, inner strength, and forgiveness.
Carolyn was predeceased by her husband and best friend Carlyle Wood. She will be forever remembered by their two children Sharon (Silvio) Briglio and Alan (Marion) Wood, and by her loving granddaughters Amy (Scott) Janzwood and Rebecca Wood. She was predeceased by her parents Bertha Mae Lee and John M. Lee, and her siblings Bertha, John and Yvonne Lee.
Carolyn was born December 5th, 1933 in the Township of Adelaide Metcalfe. She married her sweetheart on September 26th, 1953 and they were lovingly married for 65 years.
Carolyn began her career at Bell in Strathroy as a switchboard operator. She then worked at Penmans in Strathroy and later in her life at Bellamere Market in Hyde Park, where she cultivated lasting friendships. Working alongside her husband Carlyle, she was an integral part of the evolution of the Wood Family Farm through the next generation. For Carolyn and Carlyle, being farmers was not just their job—it was their passion and life's work.
Carolyn had a flare for colour and design whether it be gardening, sewing, quilting, or painting. She loved being in nature, watching birds (and keeping them well fed!), tending to her gardens, caring for the family's beloved dogs, and watching the sun rise and set. For many years, she and Carlyle enjoyed old tyme dancing with neighbours at their favourite dance halls—sometimes until the wee hours of the morning. She adored her children and grandchildren, sharing with them her boundless knowledge of horticulture and painting. She also invested her time and wisdom in the community, including her work on the North Caradoc Saint Andrew's Presbyterian Church Serenity Garden—an inclusive space for silent reflection.
Carolyn was a long-time member of North Caradoc Saint Andrew's Presbyterian Church and United Church Women (UCW), and was active in several community organizations, including the South Lobo Women's Institute, the Tri-Lakes Antique Car Club, and the Canadian Foodgrains Bank.
Visitation will be held on Sunday, March 20th, 2022 from 1:00p.m.-4:00p.m. at DENNING'S OF STRATHROY. A celebration of Carolyn's life will be held on Monday, March 21st, 2022 at 11:00a.m. at the funeral home (32 Metcalfe Street West, Strathroy). A private family interment will follow.
Please register for visitation and the memorial service through the links below.
Visitation: https://signup.com/go/YLAwkdp
Memorial Service: https://signup.com/go/kyTmjgB
Her family would like to sincerely thank the staff at Strathroy Middlesex General Hospital including Dr. Candice Rivest and nurse Neva in the emergency department, as well as Dr. Gomes and nurse Margaret in the Intensive Care Unit for their exemplary care. We also wish to thank Dr. A. Whynot and the staff at Chartwell Parkhill for their compassionate care over the past year. Finally, we wish to thank Dr. James Mather at the Middlesex Centre Family Medicine Clinic for his kindness and sincerity as her family doctor.
In lieu of flowers, donations can be made in memory of Carolyn to the Canadian Food Grains, Chartwell Parkhill Long Term Care Residence, and the Women's Rural Resource Centre of Strathroy and Area. Online condolences and donations may be left at www.strathroyfuneralhome.com.
Share Your Memory of
Carolyn