32 Metcalfe Street West | Strathroy, Ontario N7G 1M6 | Phone: (519) 245-1023 | Email: office@dennings.ca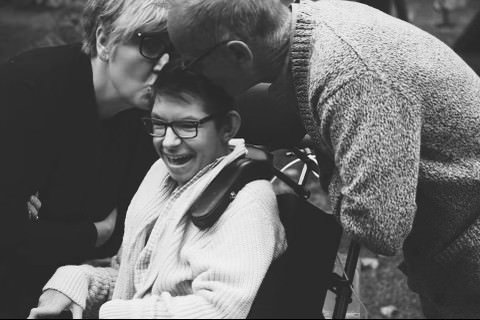 Obituary of Chase Cann
February 12, 1997- June 27, 2021
At God's appointed time, Sunday June 27th, 2021 Chase Cann was peacefully called to his heavenly home with his parents Lisa and Rodger and his sister Moriel at his bedside. Chase will be deeply missed by his sisters Amy and Lacey, his brother Joel, sister-in-law Coralee and his niece Carys "Carebear". He was beloved by his aunts Susan and Melanie (Vlado), uncle Jim (Corrie) and his Nan Sharron Brooks and countless extended family and friends.
In God's perfect plan, He allowed us the blessing of having Chase in our family for 20 of his 24 years. There was never a child who loved being loved as much as Chase did. With an infectious smile and laugh, he often brought joy to total strangers as he encountered them on his daily walks with Dad.
Although Chase had many health issues, he also had the best care team to support him. Chase's family owe a debt of gratitude to Dr Michelle McNeill, Dr Adam Rahman, Cheryl Cook, Monica Betz and his amazing Family Managed Home Care team of nurses over the years. Special mention to Nurse Jodie DeMelo, Chase's running partner and nurse extraordinaire. Your collaborative efforts gave us many more years than we ever expected. Also an extended special thank you to Dr. Cathy Faulds for all your kindness and care.
Chase loved Gospel bluegrass music and truly, Bill Gaither should be paying him as an influencer for watching as many of his Homecoming videos as he has. He loved Nascar, drag races and noisy motorcycles. He loved van rides with the family and going for walks through the park listening to the birds. He loved parties, flowers, and he was a diehard Wheel of Fortune watcher.
Those who knew him will love Chase forever. Although our hearts hurt so much without him, we are so thankful for the promise we will see him again and that he will be made whole. Many would say Chase was fortunate to have the family he had. His family would say they were the fortunate ones as he was one of our greatest blessings.
A Visitation will take place at DENNING'S OF STRATHROY on June 29th, 2021. A private Funeral Service will take place at Bethel Baptist Church, Strathroy. Interment at Strathroy Cemetery. As an expression of sympathy and in lieu of donations, please carry on Chase's legacy by loving and investing in people. "Truly I tell you, whatever you did for one of the least of these brothers and sisters of mine, you did for me" Matthew 25:40. Please share a memory at www.strathroyfuneralhome.com.
Registration is required as we have limited capacity at the Funeral Home due to the COVID-19 restrictions. For more information on how to register, please follow the link or call 519-245-1023. Guests are able to sign up for the visitation through the link below:
Visitation- https://signup.com/go/bGyqgTp
Share Your Memory of
Chase