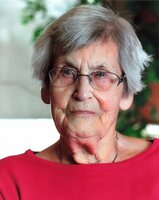 Pieternella "Nelly" Nuyten
It is with great sadness the family of Pieternella "Nelly" Nuyten announces her passing at Strathmere Lodge on May 24, 2022, in her 99th year, with her daughter Lia by her side. Predeceased by her husband Willem (2012). Dear mother of Veronica Konecny, Peter (Flavia) Nuyten, Lia (Floyde) Desjardine, Anita Hodgins, Gary Nuyten, and Steve Nuyten. Loving grandmother of Shannon (Jen), Renee (Mark), Valerie, Monique, Jen, Kyle, Tovi-Ann, Rachel and Elizabeth. Will be greatly missed by her great-grandchildren Kyle, Avery, Erin and Matthew. Survived by her sister-in-law Bep of Holland.
Nelly immigrated to Canada in 1953 with her husband Willem and 4 small children; 2 more were born in Canada. In 1962, they moved to a farm in Sylvan from Delaware. Moving to Strathroy in their later years. Nelly and Willem enjoyed travelling. Nelly enjoyed gardening, needlepoint, knitting and crocheting; making beautiful bedspreads for her daughters and granddaughters.
A sincere appreciation to the staff at Strathmere Lodge (Parkview Place).
A Visitation will take place at DENNING'S OF STRATHROY on Monday, May 30, 2022 from 1:00pm until time of Funeral Mass at 2:00pm at All Saints Roman Catholic Church. Burial to follow at All Saints Roman Catholic Cemetery. Donations to Strathmere Lodge (Recreation Dept.) would be appreciated. Online condolences and donations may be made at www.strathroyfuneralhome.com